Survey Explorer is a Windows-based tool for analysing the results of opinion polls and surveys. Its unusual and intuitive interface is aimed at managers and company executives who want to interrogate survey data to help make product marketing decisions.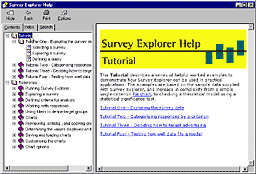 In addition to allowing a range of interactive queries, Survey Explorer allows you to plot graphs, charts, and histograms comparing selected criteria.
Memphis commissioned Human-Computer Interface to develop a documentation design style for the product, and then produce both a printed user guide, and a comprehensive HTML-based help file. The help included both a series of simple tutorials, designed to illustrate a range of common queries, and detailed reference information about the product, with a comprehensive index for ease of reference.
For more information visit:
http://www.memphissoftware.com/